Property Staging with a twist
Real Estate Staging is the act of preparing and showcasing residential or commercial property for sale. It is a systematic and coordinated methodology in which knowledge of real estate, home renovations and creative design principles are applied to attract a buyer. Preparing property involves all or part of cleaning, de-cluttering, updating and repairing, while showcasing is the process of arranging furniture, accessories, art and light. Whether the property is owner-occupied, or vacant, staging is recommended before listing a property. It can be equally effective after a property has been on the market for an extended period unsold.  Each home is unique with regard to the scope of work that needs to be completed for the best outcome.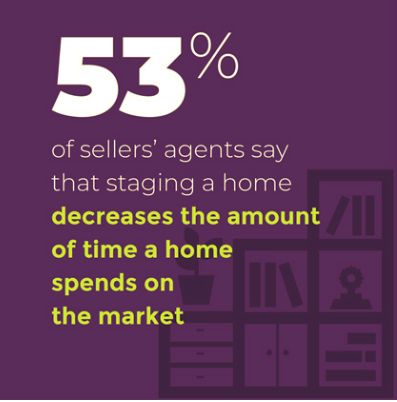 Professionally Staged Properties:
Look better than other homes on the market
Spend 73% less times on the market
Typically sell for more money
Receive more foot traffic
End up on a buyer's "must see" list
Are viewed by buyers as "well maintained"
Are "move-in" ready
Have less reasons for buyers to ask for concessions
Professionally staged listings "STAND-OUT" in prospective buyers' minds
Walk and Talk Consultations:

A verbal consultation in which the stager gives advice to the home owner and/or listing agent (they take notes) to get the home into market-ready condition. It may include cosmetic fixes, furniture placement, and actual staging advice. The homeowner or agent may then choose to do the work themselves, do some of the work themselves and hire the stager to do a portion of the work, or hire the stager to do everything.

Written Consultations:

The stager views the property, takes photos, and provides a written report (giving the homeowner or listing agent all the information on cosmetic advice and how they can stage the home themselves).

Occupied Staging:

Staging a property using primarily the homeowner's furnishings. Stagers may bring in accessories and/or a few key pieces, i.e. end table, nightstand.

Vacant Staging:

Staging in which the stager supplies all the furniture, artwork and accessories for an unoccupied home.